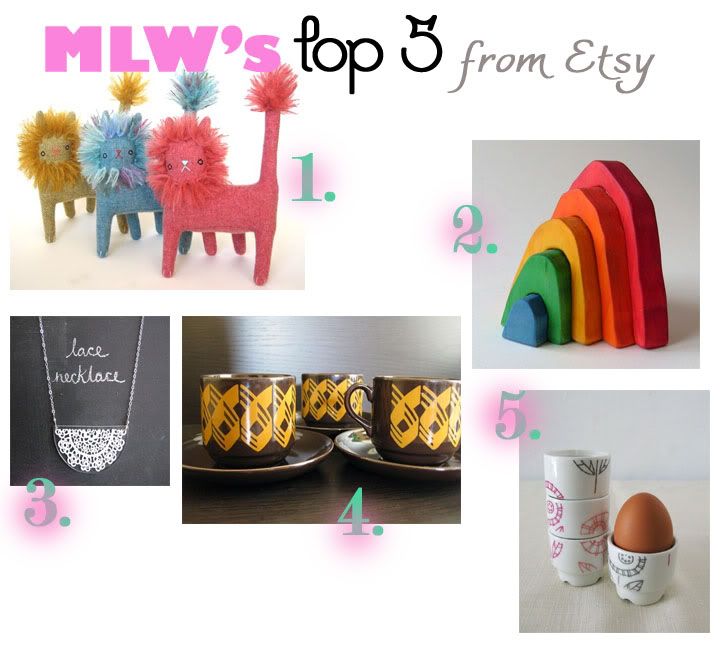 my little way's TOP 5 list from Etsy's can be found here:
1.)
Penguin & Fish
2.)
Imagination Kid
3.)
Fox & Clover
4.)
Ten Thousand Spoons
5.)
Skinny Laminx
........
.
If you haven't yet peeped
Design for Mankind
's Dialogue, you should really go
check
it out. There are a lot of great people within the art/design/blog community with real-life situations that we can all relate to in one way or another....dealing with finances, family struggles...etc. I really love when artist,
Lisa Solomon
points out how she stresses on needing to work to supplement her art-making. Rather than depending on her art work being sold to make money. I've always thought the same way, when I'm in my studio, I want to make things because I want to make them and not because I'm thinking about it being sold. That can be frustrating and just not
worth
it.
.
A lovely house tour....
Kim from
Desire to Inspire
has been featured on
Apartment Therapy's
house tours. A charmin 936 sqft. home in Ottawa, Ontario. The colors are what I enjoy the most. Bright and fun. A sense of energy with clean white walls, and concrete slab.
Heavenly.
This patio looks so inviting that it almost seems like its from a miniature barbie toy set, or something equivalent.
What I really love is how she threw in her tv with all of her frames...its less distracting like that rather than seeing it plastered onto the wall with nothing aside from it. The tv stand is pretty cute too.