I'm currently obsessed with windowsills.
DREAMY
windowsills.
+
I'm obsessed with windowsills for numerous reasons...
+
One of the reasons is the curious factor of why people have what they have on their own window stills...plants, artwork, candles...? I think its fascinating to see what people carry on to their windowsills.
In my kitchen as of now, I pretend I have a bigger windowsill than I really do! :-(
I have plants...glass jars that I collect, but even the smallest pot barely fits on my kitchen window. Hopefully, our next place we get has a nice kitchen window with plenty of space like the visual below:
+
+
+
+
This picture above, I needed to
share
with all of you.
Yesterday, my B. came home from work & called my name from downstairs....as I walked down the stairs, his arm was sticking out with the rest of his body hidden....what was in his hands? FLOWERS.
I love these days, he's the best thing thats ever happened to me.
He brought me flowers in support to both of our goals...making our dream come true. Basically, moving.
Moving out of this materialized

sin city.



Which, brings me to this:

A picture of a condo (built in th 1920's!) that B. & i were looking at in Seattle. What I absolutely loved about this condo was that it already had wooden maple floors first of all....AND look at that window. I mean yeah...VERY small and narrow kitchen, but windows make up for it. Having a cup of coffee in the morning next to an open window. Dreamy, isn't it? It is, especially if its not in a desert.
The condo also has mahogany leaded-glass doors, and located in an excellent neighborhood in Capitol Hill. AND the best part? It is in our price range!
+
I recently just bought new curtains for our bedroom. Its hand-woven silk, white. And its gorgeous. I told B. when we move, I can't wait to be able to use it for what its made for....breeze coming through. The temp. right now in Vegas is pretty good for opening your windows, but the thing is, it is SO windy here. And lots of pollen in the air, I'm just getting over being sick...and I want it to stay that way!
"
Do something creative everyday
".. ....
giraffey
agrees.
+
.........
.
....
I love bamboo.
Did you know that bamboo grows about 24 inches a day?! Its the fastest growing wood plant in the world. AND its beautiful.
I especially want this towel rack. I tend to find all my kitchen towels everywhere in the sink, on the oven, on the dining table...organize! Find all these bamboo appliances
here
. They have much much more too including Caldrea poducts such as this green tea patchouli scent laundry detergent.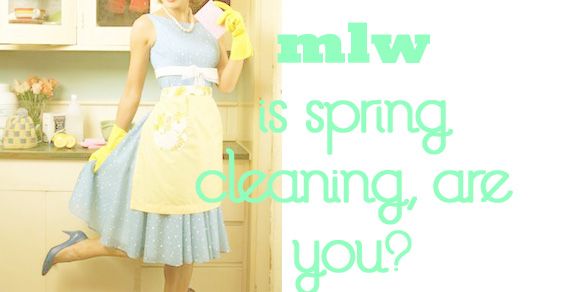 +
DUST away those cobwebs, and get your cleaning on.

+
....yesterday I did a bit of Spring cleaning.
Its an ongoing process....I got the bathrooms, kitchen, and living room done, now I need to focus on my office! We bought grey paint about 3 months ago and we still haven't gotten the chance to start painting! But....Spring is here and its all about starting fresh, right?
+
I recently just got the new Real Simple Mag. and boy, did it have some great
basic
tips on cleaning...
Here are a couple of my favorite tips that it gave:
1.)
Toothpaste
, a stain fighter. And make sure you get the standard paste, no gel. (I dislike using gel toothpaste, anyway) Use toothpaste to clean the following; acrylic accessories, chrome fixtures, piano keys, tarnished silverware, steam iron.
2.)
Lemon
, if you haven't known of the lemon trick, you're in for a turn...lemons cleans your countertops, dishes, faucets, garbage disposal, grout, hands, laundry, plastic food containers! My two favorite are garbage disposals and laundry. With the garbage disposal, cut a lemon in half, than rub both pieces of lemon through the entire disposal. It makes it smell fabulous. And with the laundry, it brightens whites, add 1/2 cup of lemon juice to the rinse cycle for a normal size load.
+
+
Try to focus on one thing at a time. We can all have clutter and mess
everywhere
and not just in one room! So, grab a pencil and paper and start jotting down what you'd like to accomplish first. Magnet it to your fridge, so its in your sight and you won't forget. My next goal, like I had said....is this office! I will be taking before and after shots, so all of you will get to see how nice spring cleaning can be and can feel once everything is all organized and spotless. At least for me, I feel
great
inside!